**** This website is frequently updated. Please email feedback HERE ****

A December, 2018 PDF capture of the entire website
(with Table of Contents and navigation links)
is available as a 13.7 Mbyte download here: Level 7 Overview
Welcome to a Level 7 Political Economy


Working together, we can repair a broken world — an imperative that is quickly running out of time. This website, created as an educational resource for activism and policy development, defines some of the existential threats to a thriving, sustainable and egalitarian political economy in the U.S. and globally, and offers proposed solutions, philosophies and resources to remedy our downward spiral. These proposals are all in ongoing development and open to input, discussion, testing, refinement and expansion. This is meant to inspire first steps in participatory design and implementation of long-term solutions.

To appreciate the goals and origins of a Level 7 political economy, please visit the L7 Philosophy page.

Special thanks to David MacLeod, Ernie Bornheimer, Mark Edward Niblack, Trevor Malkison, Jennifer Grove, Scott GrantSmith, Jeff Wright, Steven Douglas Daly, Eric Pierce, Bill James, Scott Debenham, Steven Littles, Charmaine Smith-Campbell, my wife Mollie and my siblings Sam, Karin and Kirsten, and the many exchanges on Quora.com that likewise sharpened my thinking around these topics.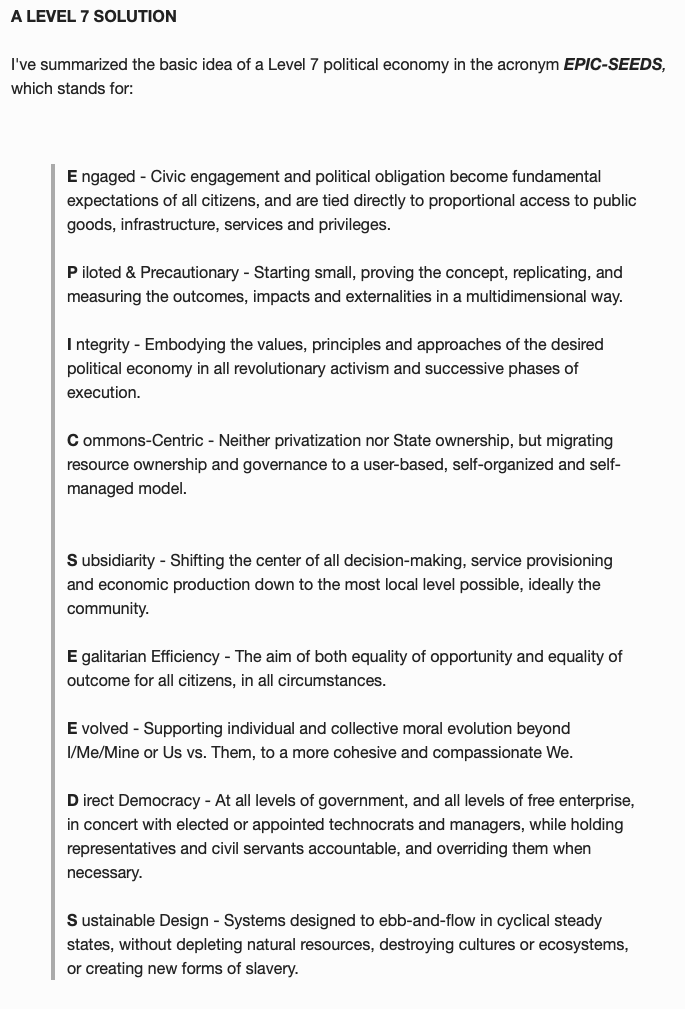 For more detail, here are the draft

Articles of Transformation for a Level 7 Political Economy